Barton Hill Festival: A Towering Success
Over 1000 Barton Hill residents enjoyed Barton Hill Festival. A free intergenerational event which celebrated the incredible creative community of Barton Hill, Bristol.
Barton Hill Festival 2017
The Festival brought the community together in celebration.
We were delighted to host the event, alongside our partners Barton Hill Settlement and Up Our Street. Jo Woodcock, Production Manager at Travelling Light said "We teamed up to create a day for and with local people. Barton Hill is a place to be proud of, over 70 different nationalities have chosen to make it their home and we wanted to create a day that reflected that. There's so much fantastic activity going on in the area, but often the organisations and community groups don't know about each other and neither do the residents. Barton Hill Festival was about bringing everyone together to be a part of something fun and new: a day where residents could get involved, enjoy themselves and see the area through their neighbour's eyes."
The festival was held in Barton Hill Settlement, where Travelling Light is based and a hub for local community focussed organisations. It was packed with theatre performances, craft workshops, music, and poetry. Each activity was provided by a local organisation, from the sensory tent showing films made by our Louder Than Words Group, to the wellbeing room, offered by therapists from The Wellspring Healthy Living Centre. The thought and care put into the programme obviously worked as well over 1000 people from all sections of the community took part in the day. 'This is real Bristol' one visitor commented 'everyone is welcome, and everyone feels welcome– and more than that, everyone's having a great time!
The free and eclectic programme offered a taste of Barton Hill, past and present. Visitors of all ages and ethnicities crowded in the hall to learn about Somali Spice Mixing from The Somali Kitchen and view the Somali cultural display, alongside the historical information provided by Barton Hill History Group. Travelling Light Youth Theatre and Wyldwood Arts performed Hillstories, a moving new play inspired by memories of local people. This project was commissioned by Travelling Light, enabling professional artists to work with young people, and offering the youth theatre the chance to get to know Barton Hill's older residents. The project, like so many things the youth theatre do, was more than the sum of its parts and resonated with audience members, performers and Bingo-goers alike. You can read more about the journey to make Hillstories here.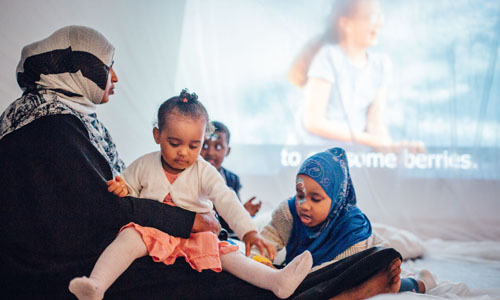 Inside the Sensory Tent
A screening of Louder Than Words' new film about colours
The Festival was designed to offer opportunity wherever possible. All activities on the day were completely free to take part in, so everyone could get involved. The BCFM music stage broadcast live from the festival and offered local musicians a platform to share their talents. Scouts from the Regional Youth Music Awards were there looking to support and mentor musicians and the amateur photography competition offered local photographers the chance to have their work professionally published. The festival was full of community spirit from start to finish and culminated in a lively lantern parade between the tower blocks, which had younger residents waving from the balconies.
A study earlier in the year showed only 55% of Lawrence Hill residents agree that people from different backgrounds get on well together. Sarah Dailly, Network Coordinator for Barton Hill Settlement said "We are just beginning to look through the feedback from the day, but one comment already sticks out: 'today changed my perception of this area and its people.' Free community celebrations like Barton Hill Festival offer a brilliant day out for everyone to enjoy together, create meaningful memories and build new relationships between organisations and residents, they also change how a community views itself and we were proud to be a part of that positive change.'
For more stories on the Barton Hill Festival click here.
For more information about Travelling Light Youth Theatre or Louder Than Words contact Giulia@travellinglighttheatre.org.uk
For information about activities in Barton Hill and how to get involved contact: engagement@upourstreet.org.uk.


Barton Hill Festival was supported by Big Lottery Fund Awards for All, Arts Council England, Bristol City Council Festival's & Event's Fund and Tesco Bags of Help.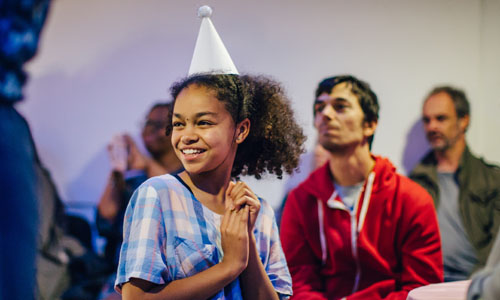 Travelling Light Youth Theatre Perform Hillstories
A Youth Theatre Performance inspired by the voices of local people