Boing! Bounces Back from Shanghai: A Guide to International Touring
After a hugely successful tour of Boing! to ASK, a leading children's theatre in Shanghai, we've gathered our favourite photos and best bits of advice for touring theatre abroad.
Timing Matters
Time differences mean that you can expect to receive urgent emails at inconvenient times. Try to anticipate when busy times will arise and either plan in some late/early working hours or make sure your contacts understand why a delay will take place. This can work in your and the venue's favour. If everyone knows they can't just pick up the phone to get an answer, everyone's organisation suddenly improves!
Communication is Key
Ask your international colleagues about local customs and don't expect them to understand yours. It seems obvious to British residents that activity here will slow down or stop over Christmas, but in a country where that doesn't happen this can cause confusion and frustration. If you're tour planning or the tour itself will take place over a UK holiday e.g. New Year's Day or May Bank Holiday, make sure you explain what this will mean to your contacts abroad and plan accordingly.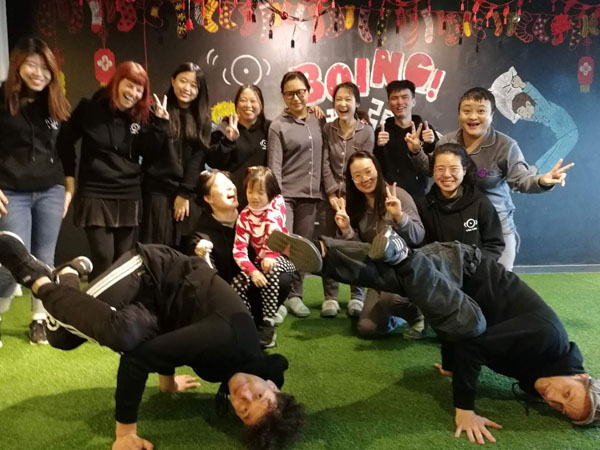 Boing's UK and Chinese team
The Boing boys perform in front of the beautiful mural that ASK staff painted in the foyer.
Audiences Change
Audiences can be different from one street to another, so it would be foolish to expect an audience in China to react in the same way as English audiences. That said, there are some differences you might not expect. There is very little public subsidy for theatre in China, which means that ticket prices are very high, even for children's shows, so parents become the main bookers, schools book rarely. As Chinese working hours made a weekday show for ages 2+ difficult to fit around bedtime, we had to provide 6 performances on weekends. We had to timetable very effectively to ensure dancers had enough time to warm up, cool down and breath between shows. Check your venue's theatre programme and make contact with other booked companies, they can give you advice about the venue and a heads up about local customs.
Different Cultures Mean Different Resources
Did you know that a sprung mattress is almost impossible to find in China? Boing! is a dance theatre piece about two boys waiting for Father Christmas which takes place almost entirely on a very bouncy bed. The sprung mattress is essential to much of the choreography and memory- foam mattresses just aren't bouncy enough. After an intrepid (11 month) hunt by our Production Manager Jo and the team at ASK they tracked down the right one. If you are expecting to purchase props or materials on location check with your local contacts. You might have to offset hours spent looking against the cost of getting set freighted over.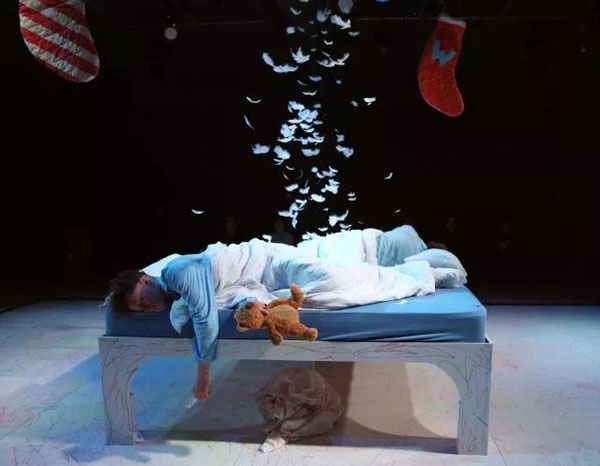 Boing at Bedtime
The feather-drop was a particular hit with Chinese Audiences
Be Good To Your Hosts
There is a tradition on the international touring circuit, to bring gifts to your hosts. These aren't the usual card and wine on opening night you might expect from a company, these gifts should say something about your country and who you are as a company. We brought a selection of Travelling Light T-shirts to Shanghai which our staff, crew and participation team wear when working out of the office. This was less of a gift, and more of a 'welcome to the Travelling Light Family'.
It's international touring!
An international tour is not a guarantee of quality, but it's pretty close! Someone believes in your show so much they want to bring it across the globe to their hard-won audiences. Now you get to bring your show to an audience who might have never experienced anything like it before. That's exciting. Enjoy it.
"There is something special about bringing a show we love to a new community with their own cultures, customs and tastes. The more your work internationally, the more you realise that work that resonates with local audiences in your village hall and global audiences around the world isn't all that different."
- Heidi Vaughan, Artistic Producer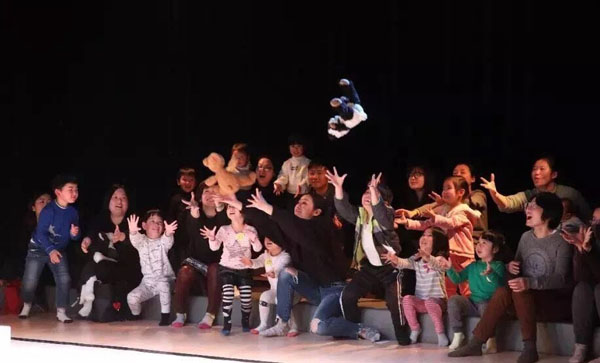 The Shanghai audience
Parents and children catch the Boing! teddies