2014 marked Travelling Light's 30th anniversary!
Read our stories from 30 years of make believing here.
A BRIEF HISTORY
1984: Travelling Light is founded by Kim Reuter and Jinny Paige. DOWN AT THE DUMP is their first show
1991: STREETWISE performs at an international festival in Poland, followed by a tour of 5 Polish cities
1995: Our most toured show, TIR NA N'OG is created and is shown at the Take Off Festival. It subsequently tours 8 times all over the world & is retitled INTO THE WEST for a mid-scale tour in 1999
2001: Our first youth theatre groups are started in Barton Hill with support from Community at Heart
2002: WALKING THE TIGHTROPE by Mike Kenny performs at Phladelphia International Children's Festival, and represents the UK at the ASSITEJ 14th World Congress in Seoul
2003: CLOUDLAND is our first successful play for young children and is so popular its tour is extended twice
2004: CLOWN is our first co-production with Bristol Old Vic, and our first piece of wordless theatre for young children
2007: THE UGLY DUCKLING is our first co-production with the Tobacco Factory Theatres, and our first family Christmas show
2008: We create SHADOW PLAY, our first piece of abstract, non-verbal theatre for very young children
2009: We create our first dance theatre piece HOW COLD MY TOES with Champloo Dance Company
2010: BOING! premieres at Bristol Old Vic; it is remounted for the next 3 Christmases, with a run each time at Sadler's Wells. We launch Bristol Feast, our annual festival of christmas shows for families
2011: Our Young Critics programme is launched, and we create CINDERELLA: A FAIRYTALE with Tobacco Factory Theatres, which is remounted for London runs for the next 2 Christmases
2012: PARALLELS is our first short film, made with our 7-10 Youth Theatre for a part of our Summer Showcase at Arnolfini.
2013: VITA is our first production as part of The Buzz, made entirely by young people with the support of professional mentors. Both BOING! and WHITE CAPS are invited to showcase at British Dance Edition. VARMINTS is our first dance collaboration with Sadler's Wells, East London Dance and Stratford Circus
2014: We celebrate our 30th anniversary with a free family arts festival in Barton Hill - 30Fest - and a big party at Tobacco Factory Theatres
KEY ACHIEVEMENTS
Awards & Honours
1998 Nomination for TIR NA N'OG - best show for children & young people (Barclays / TMA Awards)
1999 Samuel Beckett award for INTO THE WEST - best children's production (Dublin International Theatre Festival)
2005 Association of International Theatre Critics award for CLOWN - best acting (Bucharest International Children's Theatre Festival)
2013 Nomination for CINDERELLA: A FAIRYTALE - best entertainment and family (Olivier Awards)
2013 Cath Greig MBE (employee 1997 - 2014) - for services to theatre for young people in Bristol (New Year's Honours List)
2013 Jude Merrill MBE (employee 1987 - 2017) - for services to theatre for children (Queen's Birthday Honours List)
2014 Offie award for CINDERELLA: A FAIRYTALE - best production for young people (Off West End Awards)
AND THE STORY CONTINUES . . .
Full information on our latest productions can be found in the Shows section of our website, and for information on our wide-range of participation projects check out our Take Part pages.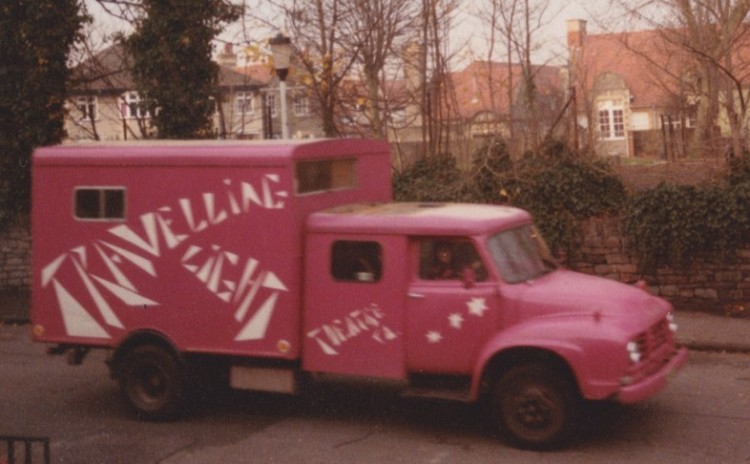 The Pink Panther
Our original pink van