Louder Than Words' 5th Birthday Party
Our free Youth Theatre group for young people with additional needs celebrates 5 years of playful creativity with a very special cinema screening.
Louder Than Words turns 5 this year. The group began in 2013, and since then, every Monday 10 young people with additional needs arrive at the Travelling Light studio for an hour of free, supported creative fun.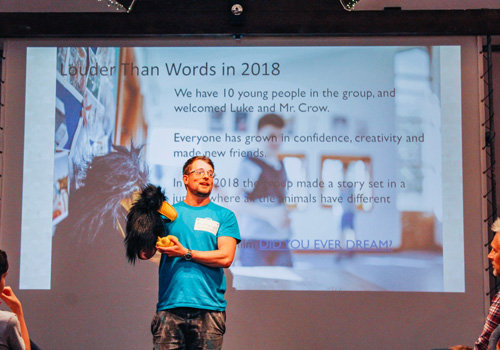 Mr Crow and Luke talk about their time with Louder Than Words
Luke is Louder Than Word's Drama Therapist and Mr Crow is a regular visitor.
Over the years the group has gone from strength from strength. Participants have learnt new skills and built meaningful relationships, and we've watched each individual grow in confidence. As one member said:
"Sometimes, people judge me too much. You can be who you are at Travelling Light and it doesn't matter… It's helped me to be around other children - I find this really hard. But I've made friends at Travelling Light."
Thanks to the incredible young people who come every week, the group receives regular requests to work and volunteer with them and last year Travelling Light launched a free sister group for the pupils of Woodstock School in Bristol.
Support from our funders has helped us work on some exciting projects. In 2017 the group created a film about 'Colours' which was screened in our very own Sensory Cinema Tent during Barton Hill Festival. 'Colours' was the latest instalment in a line of films created by the group. They began their first creative film in 2016, when it became clear that the group were keen to keep creating and sharing the stories and characters in their imagination, but some found this difficult to do in front of a live audience. Responding to this, Travelling Light decided to create a 'devised film'. Over the term a professional film maker would capture the characters created during workshops, often using green screen technology to recreate the worlds in their imagination on the screen. The group also took part in arts activities and painted and built miniature sets which formed the backdrops to their adventures which you can watch here.
Colours
A film by Louder Than Words
To celebrate the remarkable achievements of everyone in the group we decided to hold a birthday party, at The Watershed, and to screen the films the group have made over the last 5 years.
The whole audience enjoyed Louder Than words Birthday cake, pass the parcel and dressing up in between the films. Participants, assistants and facilitators past and present all came to the party to celebrate, this shows the impact this group has, not only on the participants, but on everyone who is lucky enough to meet and create with this fantastic bunch.
So how does it work? During weekly workshops Travelling Light staff get to know participants and the way they prefer to communicate and create, and tailor activities to suit them. This bespoke approach is made possible by our high staff: child ratio. The groups are co-led by a drama therapist and facilitator, and supported by 5 assistants and volunteers. The number of trained adults in the room also makes this a safe place to explore their independence, without a parent present. Which is a rare opportunity for some of those in the group. One parent at the Birthday Party said
"In school she is on the edge, both in terms of friends and in terms of the mainstream curriculum, and the school sees that as 'underperforming', but here I see she is included, and at liberty to work on her imagination and the physical side and be able to be really expressive. It's important for her."
Attending without a parent also gives the young people a sense of ownership over the projects while offering parents the opportunity to build relationships and support networks with other parents in our waiting area.
Participants' ages range from 7-15, and now when they reach 16 participants can continue their Travelling Light journey by joining ActionSpeak, our free creative drama group for young people with disabilities. Both ActionSpeak and Louder Than Words are supported by the Youth Investment Fund, which is funded jointly by the Department of Digital, Culture, Media and Sport and Big Lottery Fund.
We would like to thank all the participants, volunteers, parents and funders who have supported Louder Than Word's journey so far. We couldn't have done it without you, and in the words of our party guests, "Here's to the next fantastic 5".
For more information about Louder Than Words, ActionSpeak and our growing Special Educational Needs offer, visit our SEN page.
Become a Travelling Light Friend

Become a Travelling Light Friend, and together we can continue to create inspirational theatre experiences for young people in Bristol and help keep Louder Than Words a fun and FREE resource for the local community.
"Here's to the next fantastic 5"
A Happy Birthday message from the Louder Than Words Party