Playtime 2018 brought together a group of emerging and established artists with a group of local young people for a weekend of play and exploration.
Playtime was an opportunity for artists with a commitment to Children's Theatre, together with a group of young people aged 8 - 17 to create, share and play together. There was no aim to produce a performance by the end of the weekend, the aim was simply to be inspired by each other to tell new stories and to tap into what it is to be a child.
The weekend began with games and introductions, led by both artists and young people, and progressed into facilitated improvisations and opportunities to create short group performances inspired by the conversations which took place over the weekend. These were then shared and interrogated with the audience of Playtime participants.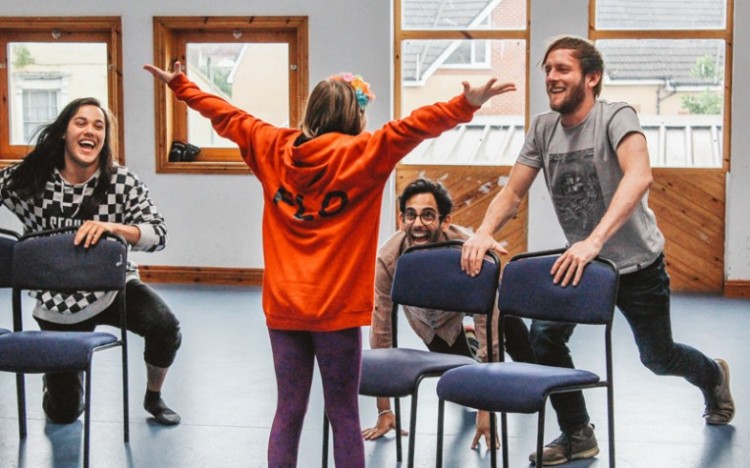 Participants improvise together
'I really loved that there was little division between the artists and young people' - Playtime Participant 2018
Each group was made up of a mixture of young artists aged 8+ and adult creatives. It was important to create an equal atmosphere, where adults and young people's views felt equally respected and heard in the room. As one artist said: 'I really loved that there was little division between the artists and young people', while another commented 'I took away so much from the way the atmosphere of the room was created and nurtured and from the conversations with the young participants and the other artists alike. It was a very inspiring experience.'
This mutual respect could be seen throughout the day, even lunch was spent together, with the artists and young people talking, laughing and sharing stories and snacks over one long table.
Playtime is designed to be both a helpful source of inspiration and self-reflection for artists working in all forms of theatre and an opportunity to grow their skills whilst being paid, so that finances should not impact on whether an artist can afford to develop their craft. Many artists stated that while they wanted to attend the weekend, the fact that this was a paid opportunity made this possible. It was also a unique opportunity for artists creating theatre for young people to get to know their audiences and ask young creatives about the theatre that they want to watch and experience. 'It should normalise things which aren't normalised yet' said one young participant, others wanted work which is 'darker' because young audiences 'can take it' and one young person suggested an immersive time-travelling installation, there was a wealth of ideas.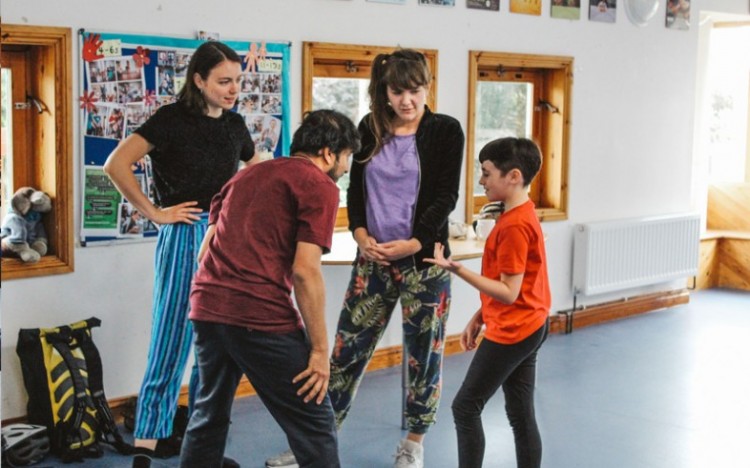 Exploring ideas in the rehearsal room
Playtime offered equal time for discussion, devising and work-shopping ideas in the intergenerational groups
Playtime is a unique opportunity for the sector as opportunities to play and explore your own practice, without having to either pay a fee for a course or be employed within a production's research and development process, are rare. These moments of shared creativity and reflection are essential to an artist's growth. Participants stated that the weekend had been 'very useful' for 'generating creative ideas', 'reflecting on your creative process' and 'developing your process when working with young people'.
In Travelling Light's rehearsal room, we place value on exploration. When creatives are invested in the work, moments of discovery can occur during a warmup game or in a brief chat during a break, just as they can from an intensive day of devising. This spontaneity keeps the work alive, if we didn't build in time within the rehearsal process to play, the work would cease to inspire the moments of innovation and clarity which we seek as artists and long for as audiences.
Playtime is our way of asking artists to keep exploring their childish natures, to keep the sector a vibrant, thriving place to work <strike>play</strike>.
Get involved
Opportunities for professional development like Playtime are displayed on our events and projects page, they are also listed on Arts Jobs, Theatre Bristol and Disability Arts Online, amongst other listing sites.