To celebrate National Volunteers Week we caught up with Jimmy, a local emerging artist who volunteers with the 4-6s and 14-19s Youth Theatre groups.
So Jimmy, what made you want to volunteer with a Youth Theatre?
I got into theatre quite late and I very quickly realised that all the people I was doing theatre with had been involved, somewhere along the line, with a youth theatre, and hearing from their experiences and seeing that they had a grounding in it made me wish that i had had access to that. So after drama school I wanted to get involved!
Why did you decide to volunteer with Travelling Light?
The kind of work they were making sounded interesting and I really liked the ethos behind it: they make high quality work which also helps the participants socially. There is a high level of care in everything they do.
Has volunteering helped you in any way?
I've been working as a director quite a lot, and I would find myself falling into a persona which concentrated on the quality of the show but wasn't very well rounded as to how I was connecting with people and caring for my teams. Seeing how Aaron (the 11-19s facilitator) and Bob (the 4-6s facilitator) can use their practice to facilitate social bonding and a closeness within the groups was really useful for me and has developed me as an individual. It's expanded my notion of how I can be in a room, with others creatively.
Specifically watching the 14-19s and how they work through some of the issues in that group creatively you see how theatre helps. Volunteering here has expanded my understanding of what theatre can do and what a practice can be directed towards.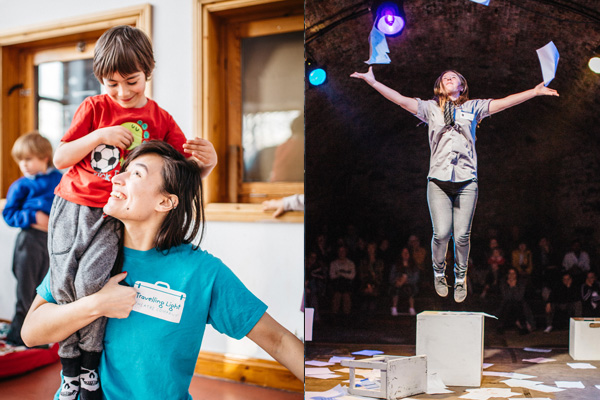 Volunteering in the 4-6s and 14-19s Youth Theatre
"Volunteering here has expanded my understanding of what theatre can do and what a practice can be directed towards." - Jimmy Addy, Youth Theatre Volunteer 2018
What's your favourite memory of volunteering with us?
That's tough! I would have to say watching the 14-19s perform their showcase, seeing them all come together and make something which was interesting and challenging was really, really, really, really, nice! I saw the two ends of the spectrum, watching things being a bit tumultuous at the start and seeing that transform into something which was unified and successful and magical. It was nice to be a part of that.
What support is available to you as a volunteer?
First and foremost there is a variety of people in the team who can and will support you if you are finding anything difficult, and you can really feel that support every day in the room. If you have to travel they can cover your travel expenses, but what I would highlight is the interpersonal support that you get from the whole team.
What would you say to someone thinking about volunteering?
Oh try it! Definitely try it! I was super nervous about volunteering with the 4-6s, I've never considered myself a 'child person' but when I volunteered in that first session they were so joyful and it was such a rewarding experience. It's effected me in a way I never could have expected. Definitely try it.
We are always looking for volunteers to support our work within participation and production projects. Our participation volunteers are supported by termly catch ups, training, briefing sessions and 1-1 meetings with participation core staff. Find out more about volunteering here. To hear more about The Youth Theatre Showcase and why this year it was so special, read our Showcase Story.