ActionSpeak Takes The Stage
ActionSpeak is our free theatre group for young people aged 16-25 with disabilities in Bristol, run in partnership with WECIL (West of England Centre for Inclusive Living).
On the 26 March ActionSpeak performed their production of The Storykeeper to an invited audience of friends and family at the Trinity Centre. It was a chance to showcase and celebrate the work the group have done together since ActionSpeak started last September. For many participants this was their first performance in front of an audience and one parent commented "We don't have the opportunity to see him in school plays or in sports activity, and this is the first time we've had that really… Thank you for the opportunity to show what he can do."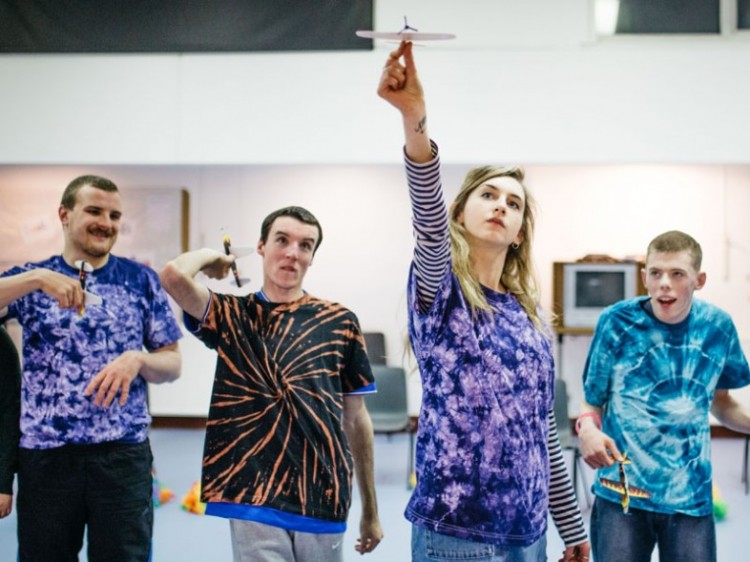 ActionSpeak Rehearsals
The ActionSpeak team warm up for their performance at Trinity Centre
The Storykeeper is a show about friendship, music and telling exciting stories. It was completely devised by the young people with support from the Travelling Light team. The group decided how the story would develop, what music they would play and how they would stage scenes. Ryan, who has been a member of ActionSpeak since September, expressed an interest in music and has been learning guitar during sessions with the help of Ashley, one of Travelling Light's assistants. During The Storykeeper he performed a live underscore for the show and he is using his new musical skill to help achieve his Duke of Edinburgh qualification.
There are a variety of interests and ideas in the group; some of the young people have a passion for transport, others like hide and seek, but everyone in the group loves ABBA's greatest hits. The Storykeeper was designed with each young person in mind and you can see their individual interests reflected in the performance.
ActionSpeak: Happiness
This film, about what makes the group happy, received over 2000 views in 2 weeks. And was watched all over the world including Spain, Canada & Argentina!
Over the last six months we have noticed an increase in the young people's ability to meet new people and focus on the drama games and activities we do each week. We've also seen friendships develop and the young people's confidence has grown hugely. George, one of the participants said after the showcase "I just felt I was really good today. I wasn't nervous at all. I knew what I had to do, knew what I had to bring, knew how to say my lines. Very professional."
To find out more about joining or volunteering for ActionSpeak or another of Travelling Light's drama activities including our free taster workshops or free theatre trips visit our events and projects page or contact takepart@travellinglighttheatre.org.uk.
ActionSpeak is funded jointly by the Department for Digital, Culture, Media and Sport and the Big Lottery Fund.