Youth Theatre
We run four fun and friendly Youth Theatre groups that meet once a week during term time, working towards regular sharings for families and friends, and occasionally public performances.
Fees are £35 per term (bursaries are available)
4 - 6 year olds - Wednesdays, 4.30-5.30pm
7 - 10 year olds - Thursdays, 4.15-5.30pm
11 - 13 year olds - Thursdays, 6 - 7.30pm
14 - 19 year olds - Wednesdays, 6 - 7.30pm
Check below for details of our Summer School.
Autumn term dates:
w/c 11th September – w/c 27th November (2 week break for half term during w/c 23rd and 30th October)
From May 2017 we will also be running monthly free taster youth theatre sessions in East Bristol. Full details will be published online shortly.
If you'd like to sign up to our regular group just fill in our registration form and return it to Giulia our Youth Theatre Coordinator, or to find out more about our monthly taster sessions contact Giulia on giulia@travellinglighttheatre.org.uk.
A massive thank you to all our supporters and to our Youth Board members who helped raise approximately £2000 over 2016/17 for participation projects. To see how your generous donations were spent, visit our Donate page.
v
Summer School
This summer Travelling Light and Wyldwood Arts led a FREE drama summer school that got right to the heart of Barton Hill.
Together with a professional Director Writer and Designer and an incredible team of local young people we created a whole play inspired by the true stories of local people. The performance moved audiences at the Redfest sharing, with hardly a dry eye in the house. This proiduction will be workshopped during the youth theatre autumn term before performing the finished piece at Barton Hill Festival. It's going to be a very special experience. If you would like more info about how to get involved with this fun project contact : Giulia Bianchini, Youth Theatre Coordinator. Email: giulia@travellinglighttheatre.org.uk . Telephone: 0117 9031649.
The Weird and Wonderful World of Barkarkington Academy
2016 Summer School, co-production with Tobacco Factory Theatres
Young Critics
Free theatre tickets once a month. Sounds too good to be true? What about transport? What if you've never been to the Theatre before? Our young critics programme is for everyone 10 -19. We offer free theatre tickets and transport if required to some of the most fun and exciting performances in the Bristol area. Meet new friends, see a show and chat about the show with the cast and creative team. Places are limited. We will announce a new performance every month by text, and the first 10 young poeple to text back will receive a place on the next trip, (max two trips in a row per participant).
To be the first to hear about the next theatre trip fill in this Young Critics Registration Form and return it to Giulia, Youth Theatre Coordinator, on giulia@travellinglighttheatre.org.uk. Don't forget to fill in your mobile number as this is how you'll hear about the shows. It's first come first serve so be ready for that text!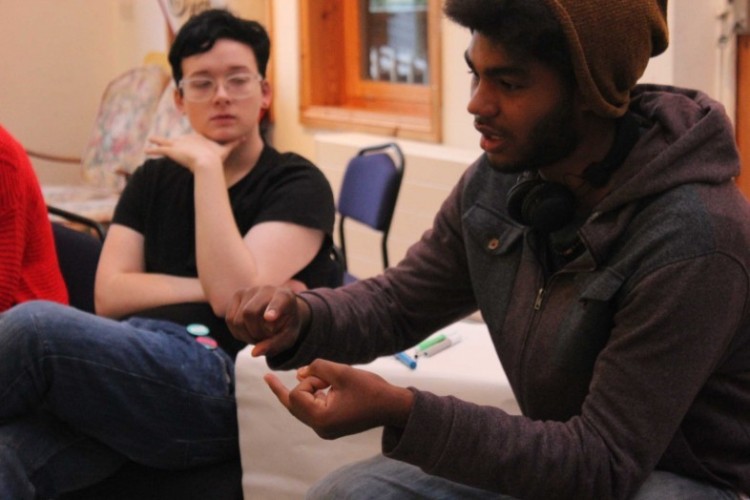 Young Critics at Bristol Feast
Young Critics take part in Bristol Feast, our annual Festival of Theatre for Young Audiences