Three Kings lights up the local community
Our free performances of Three Kings resonated with young and young at heart alike.
Our local community is at the heart of Travelling Light's work. While our shows go on tour to families around the country, and sometimes around the world, they always begin in our studio in Barton Hill, Bristol. As well as inviting the community to our free performances or dress rehearsals in the studio we also invite audiences of local children to see our shows at different stages. The comments and questions asked during these visits are invaluable and help us to shape the work we make.
This November Travelling Light invited audiences of local people to enjoy two free performances of our latest show for stargazers aged 5+, Three Kings. The free tickets flew out the door and we were delighted to welcome over 100 people from babes in arms to grandparents into our studio during the day.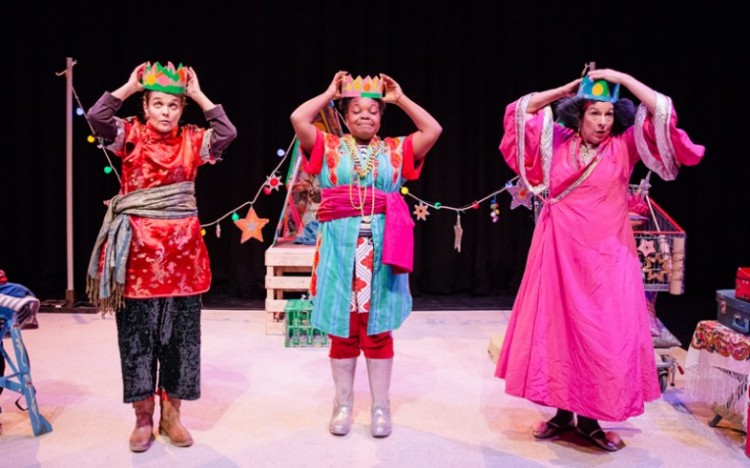 Three Kings
Performers Heidi Niemi, Corinne Walker and Stevie Thompson try on their crowns for the first time.
Three Kings is a heart-warming tale of three women from different countries and very different walks of life. One night these complete strangers meet under the brightest star in the sky. As the dark grows closer, we learn what makes this star so special to each of them; tales of jealous kings, true love and lost lands fill the night with music, magic and dancing. But stars shine brightest just before they die. Their stories bring the strangers close in ways they had not imagined possible, and just when you think their stories are over, the women unite for their next adventure, together.
Barton Hill is a vibrant and diverse community full of different cultures and it felt particularly poignant to be sharing this tale with our local audience. Though there were a few tears from adults and children alike, there was no shortage of laughter and delight from the audience as the show went on. One young audience member said it made them feel 'twinkly', while others left feeling 'hopeful', 'warm and nostalgic' and 'much better after a cold, wet day!'.
Three Kings Trailer
An insight into the world of Three Kings
It was heart-warming to see how engaged everyone was with the show. When the three women pointed out a new star in the sky, the whole room turned to look. Many said they would like to come and see it again.
George Densley, Participation Director said
'It was brilliant to fill our studio with voices and laugher and glee and enjoy our work with the wonderful people who we share these streets with.

So many families left the space with a smile on their faces, pondering the themes and beginning conversations with their children around friendship and love and the things that bind us together as a human tribe.

It is always a joy to bring our stories home, opening our doors to our neighbours helps us grow new connections and begin exciting new creative journeys with local families'
Three Kings has also toured to local Bristol communities in Southmead, St Pauls and Lockleaze, where free performances were provided by housing association, United Communities. The show is touring to schools, residential homes and professional venues including Theatre Shop, Clevedon on Saturday 1st December, Victoria Hall, Radstock on 2nd December and Half Moon Young People's Theatre in London on 6th – 8th December.
For more information about the show and to watch our Three Kings films series which gives you an insight into how we made the show, visit our shows page.